WARNING: THE FOLLOWING POST CONTAINS SPOILERS FROM THE LATEST EPISODE OF LOST.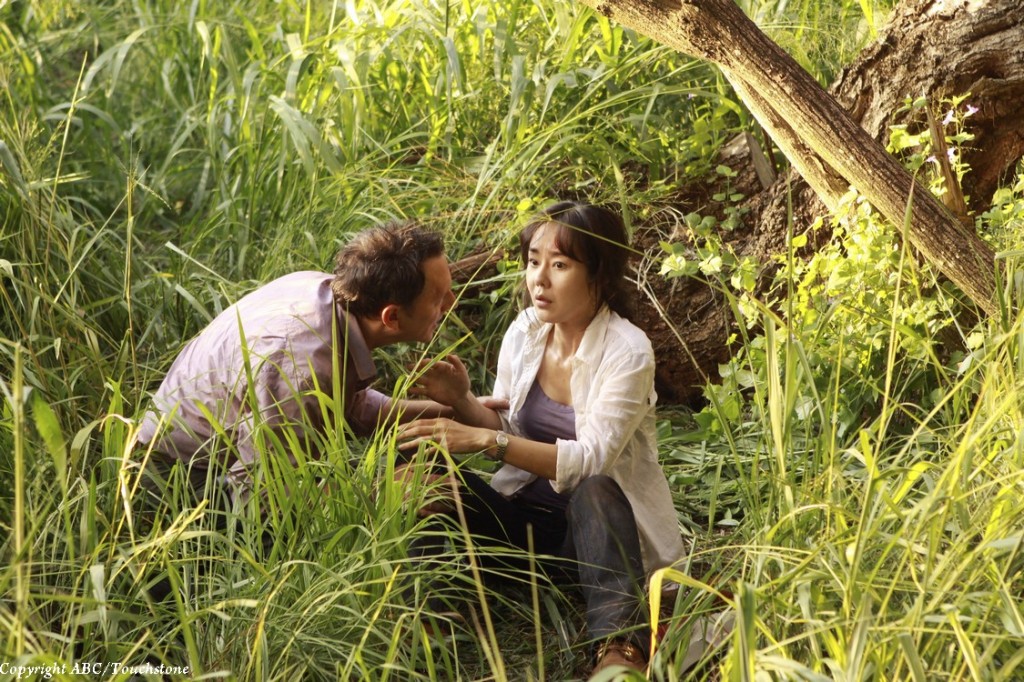 After the jump: Mini-recap, questions, theories, and predictions!
This week on Lost, we discovered that Sideways World Jin and Sun were't married! But they werere definitely doing it, and as it turned out, Sun's daddy knew about their little affair and decided to have Jin offed – by Keamy, of course! But Keamy wouldn't do until he got his money, which they confiscated at the airport. So Patchy (aka Mikhail) was called in as a translator, and Keamy kidnapped Jin, and as we all know Sayid came in and shot Keamy and his cronies in that restaurant. What we didn't know was that after that little incident, Patchy came strolling in with Sun, Jin shot Patchy IN THE EYE of course, and Sun got caught in the crossfire! Which would already suck bad enough, but they she's all like, "I'M PREGNANT!" and Jin's day went from bad to worse! MUCH WORSE!
On the island, Sayid was feeling devoid of emotion and Mocke told him that's probably not a bad thing since some serious shit is about to go down, apparently. Then Mocke and Claire had a chat about Kate, wherein Mock basically told Claire that they need to use Kate to get the 6 candidates onto the Ajira plane, but after that Claire can make Kate's head into her new skull baby! And Mocke told Jin to stay put because he's going to get Sun, so of course Jin packed up and left. Then Mocke got to Sun and told her that he had Jin back at Camp Smokey, but she didn't trust him, ran away, and en route she knocked herself out! When she woke up she had lost her ability to speak English, but she had gained her personality back, so it all evened out. Then Tina Fey kidnapped Jin, who met with Widmore, and Widmore was like, "We must stop Smokey or else we're all doomed, etc. etc." and Jin seemed to buy it, then he went to show Jin his package! Widmore also captured Mocke, and they exchanged some fightin' words, and so now there's a war on! Then Jack cried about Sun, and he promised her if she'd just come to the plane with the others that he'd help her find Jin. Finally, Sayid went for a hilarious midnight swim around the sub, and as it turned out, Widmore's package = semi-conscious Desmond!
As most Sun and Jin episodes go this one wasn't anything mind-blowing, but it had its moments!
Questions:
1. Did I hear this correctly? Did Keamy tell Jin that he wasn't going to let him know "what's going to happen on the island?" WHAT DOES THAT MEAN!? The island's under water!
EDIT: Thanks to Jess, apparently Keamy said "…just in case you figured out what's about to happen to you, I can't have you freaking out…" nothing about an island haha oh well.
2. When Mocke told Sayid it's probably better that he doesn't feel anything now because it will help when what's coming comes, what did that mean? Sure, the war is coming, but…I am intrigued. And who is this wise man that said war was coming? All I can think of is Dumbledore.
3. Once again we see someone in Sideways World looking in a mirror – this time it's Sun. Does that mean she's the candidate and it's not Jin?
4. I have ALWAYS thought Widmore was secretly a good guy (albeit a jerky one) – I think I might be right! HUZZAH!! He seemed so sincere when he was talking to Jin about how the world would end if they let Smokey free, didn't he?
5. Now why would Sideways Sayid act so weird towards Jin in the fridge? I think the writers forgot that in the Sideways World Sayid still knows how to feel feelings.
6. Widmore's this super-rich smart guy – why send a geophysicist that looks exactly like Tina Fey to do his dirty work? Keamy might be a dick, but at least he's effective haha.
7. Keamy called Patchy "Danny's boy" – could that be Danny Pickett, perhaps? All the assholes hang out in Sideways World, apparently.
8. I really wonder why Kate's not a Candidate.
Thoughts:
– PATCHY!!!!!!!!!!!!!!!!!! So weird to see him with 2 eyes, so happy to see him back with one at the end lol. Seeing him again was awesome.
– So Sun was pregnant – if she survives being shot, she'll probably lose the baby…those two just aren't meant to make babies, huh?
– Sayid in the water = funniest thing ever.
– I loved Mocke's talk with Claire about her name being in the cave and Kate. He went from being Daddy Dearest to evil in 3 seconds flat. "Whatever happens…happens." (lol episode title)
– DESMOND!!!!!!!!!!!! We all knew he'd be the package, but still!!!
– Room 23!!! Love it.
– "Heyyy, don't talk about bacon." Haha Lapidus! Also loved his line about Miles communing with the dead.
– Sawyer's comment to Mocke was awesome – "Because that would be ridiculous."
– So Sun and Jin weren't reunited, but at least that bump on the head gave Sun her personality back! Finally.
– Keamy's such an excellent bad guy that no matter which dimension he's in he never dies on the first try.
– The bagpipes in the promo for next week were hilarious "Well the episode's about a Scottish dude so let's use BAGPIPES."

§ 65 Responses to "SPOILER ALERT: Mini-Recap & Discussion Post for "The Package""