WARNING: THE FOLLOWING POST CONTAINS SPOILERS FROM THE LATEST EPISODE OF LOST.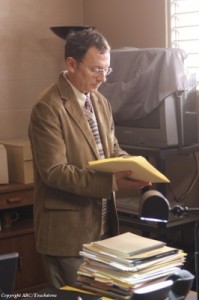 After the jump: Mini-recap, questions, theories, and predictions!
On this week's Lost, in Sideways World, we get the impression that Dr. Benjamin Linus is a lonely guy who takes care of his elderly father (ROGER!!!) and despite being a smartypants, he is forced to neglect his precious History Club to cover detention because his boss, Principal Butthead, doesn't like him very much. So Ben decides maybe HE should be principal instead! And it turns out that Alex is conveniently one of his students! And she is in this now defunct History Club! And she wants to go to Yale! And she tells Ben that Principal Butthead is having relations with the school nurse! Something that the always-manipulative-no-matter-the-dimension Ben uses to try and blackmail the guy out of his job! But when confronted with this blackmail, the principal says if Ben goes through with it, he's not going to write Alex's letter of recommendation to Yale! So of course, since this is the Sideways World, Alex > Ben's own happiness, and she gets her recommendation and all's well that ends well, except Ben is right back where he started.
On the island, Miles tells Ilana that Ben's the one that killed Jacob, and it turns out that Ilana thought of Jacob as a father, so BIG SURPRISE there are more daddy issues! So then she ties Ben up, tells him to dig his own grave, and is ready to shoot him! But then Smokey shows up and tells Ben that he's about to roll, but he'll let Ben have the island if he can beat Ilana to some tree somewhere! So Ben bolts in a comedic fashion, and he gets there first with Ilana at his heels, and the two of them have a heart to heart in which Ben basically tells her how shitty his whole life has been, and how it's all Jacob's fault, etc etc and Ilana forgives him and they go and have a nice little musical montage with the rest of the Losties. We also found out that Richard can't kill himself (thanks to Jacob) and he tried to get Jack to kill him as a favor! But when Jack lit the TNT's fuse, nothing happened! Because he's all special and stuff. Which he knows thanks to that whole Lighthouse fiasco. Then he cried and breathed heavily through his nose.
Questions:
1. Richard said that once Jacob touches you, you can't kill yourself. So now we know why Michael and Locke had such a hard time of it! But Richard also implied that he hasn't AGED because Jacob touched him as well – does this mean the 6 Candidates are also not going to age? But Sawyer and Kate were touched as kids, so they've obviously aged – maybe Jacob gives each person a different "gift?"
2. Who else thinks Widmore is going to join Team Smokey??
3. In the Sideways World, Roger told us that they had gone to the island! What was that all about!??!!? How long did they stay, and why did they leave?
4. Who ever thought that Jack would really become the ultimate Man of Faith and attempt to blow himself up? (Although if Jacob's touch means they can't kill themselves, that fuse went out because technically Jack was trying to kill himself, right?) And of course we got some Jears. ;_;
5. Ilana said Jacob was the closest thing to a father she had – more daddy issues! I only wish I was surprised! What was her relationship to him?? Was it a big shock that she actually forgave Ben for killing Jacob?
6. Now that we've seen the kind of havoc Jacob has caused in people's lives, can we really think of him as a "good" guy? Isn't it interesting that for a show that's always had this strong theme of black and white that now that we're finally getting to the ultimate battle royale that both sides are a little…gray? Jacob's more evil than we figured and Smokey has some really good points!
Of course at this point it's pretty clear that Jacob is a God figure and Smokey is the Satan figure – Smokey being held prisoner by Jacob's wrath and all that. Jacob setting people down a path and Smokey tempting them with the fru-its of the dev-eel and whatnot. If we weren't so close to the end of the series I'd be theorizing the hell (no pun intended) out of all of this, but at this point I'm happy to just let it roll. I think I'll wait until it's all over and done before I write my gigantic "This Is What Lost Means" thesis.
7. Last season when Ben was revived in the temple, Richard said he'd never be the same again, he'd be "changed." Is the selflessness we saw in Sideways Ben (with Alex and his father) what little Ben lost in that temple?
8. Ilana said there were six candidates left. According to the cave, the 6 names listed were Jarrah, Shephard, Ford, Kwon, Reyes, and Locke. Does this mean that both Sun AND Jin are candidates? And even if you count them separately (and discount Sayid) that still only leaves you with five, right?
9. Smokey asked Ben to take over, and yet he's the one who said the island doesn't need protecting. What's up with that?
Thoughts:
– Alex!!! So good to see her! Who knew she'd be so nerdy?
– And Arzt, hating everyone and everything! As per usual!
– Was that the Black Rock in the History text book Ben was helping Alex study with?
– I loved the thing about Nikki and Paulo and Miles with the diamonds. Awesome.
– Every episode should end with Hurley Hugs and musical montages. Just saying.
Such a great episode. So many funny lines. Cyborg? Vampire? Sweater vest? Banana leaf checks? LOL!
(For the record I want to see Vampire!Richard show up on True Blood this year. Guh.)
I'm sure I'll be adding more tomorrow once I've read all your very astute comments :D

§ 118 Responses to "SPOILER ALERT: Mini-Recap & Discussion Post for "Dr. Linus""