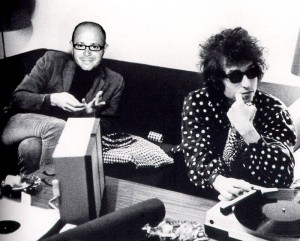 Back in October, Damon Lindelof was interviewed, and was asked which song he thought best represented the mood of Lost's sixth season. The answer he gave was Bob Dylan's "Visions of Johanna," a song whose meaning has been speculated about for many years. On the very surface, the song is about being stranded. However, there is a theory that Louise in the song represents the finite – your earthly body, while Johanna represents the infinite – your soul. Throughout the season, I kept this song in the back of my mind, trying to understand why of all the songs in the world to choose, Damon chose this one. Having now seen the finale, I finally understand.


Ain't it just like the night to play tricks when you're tryin' to be so quiet?
We sit here stranded, though we're all doin' our best to deny it
Sure, the Losties were stranded on the island, but by Season 6, that was old news. What we didn't know until that finale aired was that they were stranded in the Sideways World – in limbo – and until they each reached enlightenment, they'd never be able to move on to whatever lies beyond the light. They sat there stranded, trying to do their best to deny it – most of all Jack who, true to form, was stubborn until the very last moment, never wanting to "let go."
Louise, she's all right, she's just near
She's delicate and seems like the mirror
But she makes it all too concise and too clear
That Johanna's not here
Think back to all those times we saw the Losties looking at themselves in mirrors this season. While they thought they were seeing themselves as they were, they were really just reflecting the earthly bodies they had once inhabited. But the more they saw themselves, and I mean really saw themselves for who they were, it made it all too concise and too clear that they were not where they belonged. Johanna's not there in the Sideways World – Johanna is what lies beyond the light in the church. They had to let go of those old notions of who they were on earth before they could come to grips with where they were and what their next step would be.
Inside the museums, infinity goes on trial
Voices echo this is what salvation must be like after a while
I'm not going to stretch this metaphor to its breaking point by saying that the museum benefit our Losties attended was where infinity went on trial, but that was definitely when the roller coaster of a finale finally seemed to reach its climax. Once Kate, Charlie, and Claire all gained the understanding about where they were (which was one of my favorite scenes of the episode), it really felt like we were finally done climbing and now we could just throw our arms up to the sky and enjoy the free fall.
Salvation is defined as, "The saving of a person from sin or its consequences, especially in the life after death." After watching these characters go through all their trials and tribulations on the island and the outside world, it was quite moving to see them finally understand what salvation must be like after all that time. Are we merely the sum total of our actions? Or is there more to it? The Losties' love and loyalty to one another is what saved them in the end. Sure, they made mistakes in their lives; none of them were perfect. But instead of being judged by some kind of higher power, it wasn't until the characters were able to forgive themselves that they could finally let go.
The peddler now speaks to the countess who's pretending to care for him
Sayin', "Name me someone that's not a parasite and I'll go out and say a prayer for him"
But like Louise always says
"Ya can't look at much, can ya man?"
Murderers, criminals, torturers – Lost has always been chock full of unsavory types. I think ultimately the message is that there is really no such thing as good or evil. From the outside, so many of these people seemed too flawed to be fixed, but over time, we saw that even the worst of them could be capable of great things as well as terrible things. Even the Smoke Monster himself was once a decent human being. Louise is telling the peddler to look a little deeper – people are not always what they seem. Almost everyone can be saved.
We see this empty cage now corrode
Where the cape of the stage once had flowed
The fiddler, he now steps to the road
He writes ev'rything's been returned which was owed
On the back of the fish truck that loads
While my conscience explodes
The moment in which Jack finally understands that he is actually dead, that he's been dead all along, the invisible cage Jack had been holding himself prisoner in finally falls away, and everything makes sense to him and to us as the audience. It reminds me of the ending of The Sixth Sense in which Bruce Willis' character can't rest in peace until he (spoiler alert!) understands that he's been a ghost all along. In the end, our Losties got what they each deserved, and their conscience/soul/what have you could finally go out into the ether. The Sideways World existed to help them come to grips with the choices (both good and bad) they had made in their lives, and finally let them rest in peace.
Those visions of Johanna – i.e. The Great Beyond, the Infinite – at first crept up on them, eventually conquered their minds, made their past lives all seem so cruel, but in the end, those visions of Johanna are now all that remain.
***
I loved the finale, and the more I think about it, the more I loved it. I had been afraid that they'd somehow end the show in the Sideways World – give us this Super Mega Happy Ending, which would in effect negate the first 5 years of the show. But in fact, they did the opposite. They made what happened on that island SO important that every person in that church considered it the most meaningful part of their lives – even the ones that lived to ripe old ages. Talk about an epilogue. It's the ultimate "and they lived happily ever after." No matter what those that survived did for the rest of their lives, they still all managed to finally rest in peace, together.
As an audience, it left it open for speculation as to what happened to the Losties that survived once Jack died. What was it like when Claire and Aaron were reunited? Did Kate and Sawyer have any kind of relationship? How did Richard adjust to modern life? Did Hurley protect the island like a tropical Santa Clause, with Ben as his Head Elf? What was Desmond and Penny's reunion like?
Damon and Carlton gave us a definitive ending without giving it all away. Sure, not all of our questions were answered. I'm sure there are disappointed fans who will hold a grudge that we never found out why Claire had to raise Aaron, or why Walt was special, or what the light at the center of the island really was. But to dwell on that aspect of the show, in my mind, would be missing the point. Lost has always been about the characters' journeys of self-discovery and redemption. While totally fascinating, the mind-boggling WTFs of the show were a means to an end. The puzzle pieces were all put in place to help tell the story of the people on that island, not the other way around. That finale was everything we've come to expect Lost to be – action-packed, moving, funny, and totally nuts. I wouldn't have wanted it any other way.

§ 75 Responses to "The Lost Finale: And these visions of Johanna are now all that remain."