WARNING: THE FOLLOWING POST CONTAINS SPOILERS FROM THE LATEST EPISODE OF LOST.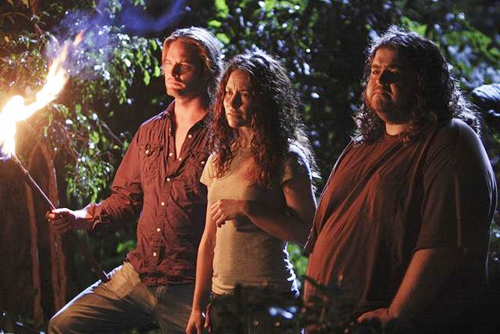 After the jump: Mini-recap, questions, theories, and predictions!
By the way, my recap for this episode will be up Friday instead of Sunday for obvious reasons! Also, I will be splitting the finale into TWO recaps because it's so long!
Stay tuned tomorrow, I'm going to be posting a something special I've been working on :D
On this week's penultimate episode of Lost, Kate, Sawyer, Jack, and Hurley were still getting over the fact that Smokey tried to blow them up in the sub (and managed to kill half their friends in the process) when who should beckon them to a meeting but Jacob himself? They could all see and talk to him now (something to do with his ashes) and Jacob proceeded to tell them the entire plot of the sixth season. So now they know one of them has to replace him, and Jack volunteered, and so Jacob did some voodoo, made Jack drink some magic water, and poof, now Jacob = Jack.
Elsewhere, Widmore's last stand against Smokey did't go too well! Ben, Miles, and Richard had all found their way back to Otherville where Widmore's crew was also hiding out. Once they knew Smokey was on his way, Miles ran, Richard got whisked away by the monster, and Ben decided he'd let Smokey kill him without fighting back. However, Smokey and Ben made a little deal that if Ben kills a bunch of people for Smokey, Smokey will let him have the island. Widmore told Smokey that he was there on Jacob's orders, and that he brought Desmond to the island to act as a fail safe in case Jacob's plan goes horribly awry. That's all Widmore got to say because Ben promptly shot him dead because apparently he's still pissed about Alex dying! Woops! Finally Smokey told Ben that he's going to destroy the whole damn island, apparently.
In the Sideways World all kinds of things were going on – Ben got beaten up by Desmond, which triggered his island memories. Desmond joined forces with Kate and Sayid in jail, then Hurley helped them all escape by bribing Ana-Lucia, who he remembered from the island! Locke went to Jack and told him that he does want the surgery after all, and Ben had dinner at Alex's house – with her mother Danielle – and the three of them were like an insta-family. And now basically everyone ever is planning to go to this big museum/concert/gala thing, where we all know something totally crazy's going to happen!
We are so very close to the end that asking all these questions seems kind of silly, but it's more to help us keep in mind what we should be paying attention to!
Questions:
1. Where's Richard? And what's Desmond up to? Did Miles help him out of the well?
2. Hurley remembers Ana-Lucia from the island and not just Libby – do the other people also remember more from the island than just the people they loved?
3. Does Ben really want the island, or is he just out for revenge? Or is he scheming? (After all, he always has a plan, right?) I love that he's evil again, by the way. Took him long enough!
4. When Ben cried about Alex in the Sideways World, is that because he remembered Alex from the island, or just because he was so touched?
5. Jacob told the Losties that he chose them all because they were unhappy and alone in their lives, just like he was. But what about all those other people on the plane? Were they actually happy? Did he just let them die?
6. So Desmond's the fail safe? What does that even mean? It makes me think of the hatch fail safe key, which Desmond turned and caused the hatch implosion/sky turning purple/he time traveled/etc. I think they're going to throw Desmond into the light. And he's going to survive. Bring balance to the Force and all that.
Thoughts:
– I loved when Jack said "I think you're mistaking coincidence for fate" because for those that don't remember, that is something Mistah Eko told Locke in Season 2!
– Despite the fact that Jacob had passed the torch to Jack, I don't think Jack's going to be protecting this island for long. In the end I don't think the island will need any protecting, if it's still there at all!
– Also, immortal Jack = my worst nightmare. Trust us Sawyer, we ALL thought Jack had a God complex before!
– This concert in the Sideways World is going to be like the "We Are the World" of Lost. EVERYONE'S going to be there!
– I love that Ana-Lucia is a corrupt cop. Makes so much sense. God I hated her.
– Speaking of which, GOODBYE POOR MAN'S TINA FEY.
– I cannot wait to see how this show ends. I don't want the Sideways World to be the super happy ending since those are not the same exact characters we've been watching all this time, and it would negate the previous 5 years, but I have no idea where they are going with this right now! AGH!
– I can't believe Widmore's dead! I always thought he was so important to this whole thing and now he's dead…I don't get it.
– Interesting that Jacob crossing off the names didn't mean much after all! I think it's nice he crossed off names once people become mothers – I guess that means Jin was the 'Kwon" on the ceiling then, huh?
– I loved seeing not crazy Danielle!!!! I hope her and Ben are very happy together, and I hope Danielle never gets her own flash of the island because if so, Ben's in biiiig trouble.

§ 74 Responses to "SPOILER ALERT: Mini-Recap & Discussion Post for"What They Died For""