WARNING: THE FOLLOWING POST CONTAINS SPOILERS FROM THE LATEST EPISODE OF LOST.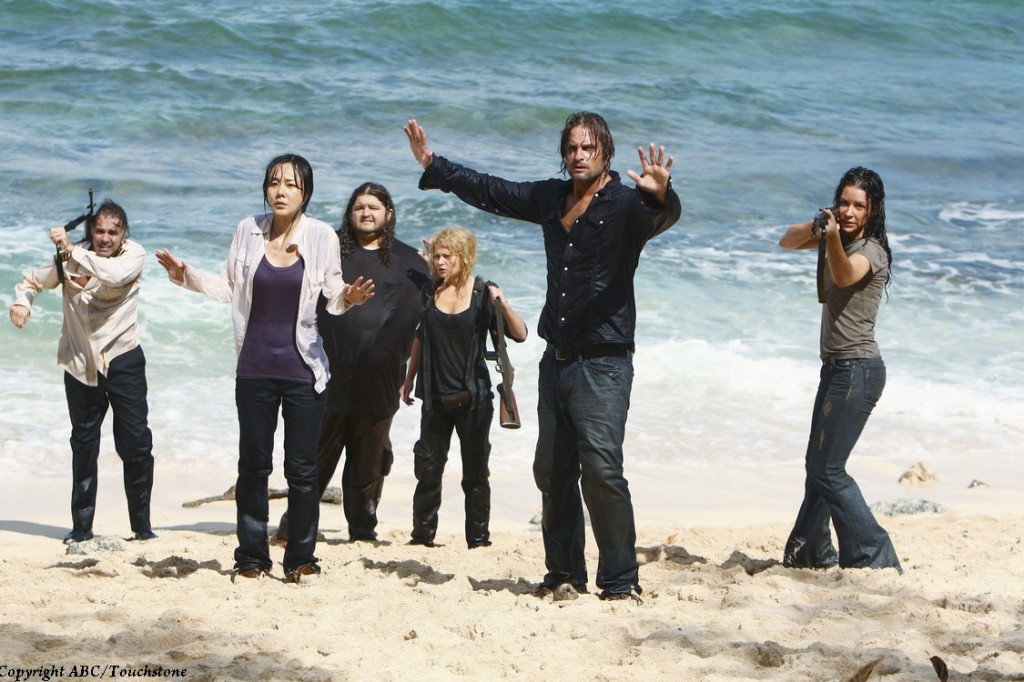 After the jump: Mini-recap, questions, theories, and predictions!
MAKE A MENTAL NOTE: There is no new episode of Lost next week!!!! ;_;
This week on Lost, on the island Mocke and Jack had a one-on-one in which Mocke admitted that he has been known to dabble in cross-dressing – with dead people's bodies, that is! He also told Jack that Locke was a big sucker and nothing more. After lots of planning/running around, Mocke told Sawyer to meet him on the beach so they could sail across to the other island together, but of course Sawyer made his own plan to escape from Mocke's evil clutches and go cash in on that deal he had with Widmore! Then Mocke told Sayid to kill Desmond, which Sayid claims he did, but we all know he didn't because Desmond is all zen and stuff now and probably convinced him otherwise. So all the Losties meet up at Sawyer's escape boat (including Claire, whom Kate is trying to pull back from the Dark Side), and they get going. Only problem is when they're halfway across, Jack has a change of heart and Sawyer tells him to GTFO, which he does by jumping off the boat and swimming back to the island. Sawyer's group finally gets to Hydra Island, Sun and Jin reunite in a super cute way, but then poor man's TIna Fey pulls guns on everyone (the deal with Widmore is off, apparently) and then calls in an attack on the other island! Team Mocke (now including Jack) gets bombed, but Mocke pulls Jack off the battlefield and tells him he'll be peachy keen now that he's on his side.
In the Sideways World, all our Losties are starting to congregate, albeit unintentionally! Sun and Jin are both okay (and so is their baby!). Sawyer and Kate flirted for a bit in the police station, and then Sawyer went with Miles to arrest Sayid for murdering Keamy & Friends while he was trying to flee from Nadia's house. Desmond stalked Claire and convinced her to see Ilana, a lawyer, and oh by the way she just happened to show up for the reading of Christian's will, which Jack and his son were there to hear! Claire tells Jack that they are half-siblings, and then Jack is called away to the hospital to save Locke, who he recognizes on the operation table.
Questions:
1. If Mocke wanted Desmond dead, then how come he didn't kill him himself? And what did Sayid really do with Desmond?
2. Why was Sun afraid of Locke when they were being wheeled into the hospital?
3. What's the deal with Mocke changing people's minds? If all it takes is him talking to people, how come Sawyer, Kate, etc aren't affected??
4. Is Jack going to fix Locke's paralysis in the Sideways World?
5. Can we really trust Claire now? I certainly don't.
6. When Jack asked Smokey why he chose Locke's form, Smokey said Locke was dumb enough to think he had actually come to the island for a purpose. But that's exactly why Jack came back – does Smokey realize that? Is he being ironic, or does he not know??
7. Who is Jack's baby mamma??? It's driving me crazy. I really want it to be Juliet.
8. Where's Team Richard in all this? Bantering in a hilarious manner, I'm sure.
9. So Smokey took on the form of Christian back in Season 1, but was that also Smokey later in the show when Christian came to Claire/Sun/Lapidus/Ben/Locke? I don't think it was the same guy because he was wearing different clothes, but I could be wrong. And did he appear as Christian just to show Jack to the water supply? It seems like there would be easier ways…
10. Zoe said "we got it" right before they bombed the island – what did she mean?
11. Could Jack be right about Mocke wanting everyone to leave the island? That he's more afraid of what will happen if they actually STAY? Isn't that what Jacob's whole candidate search was all about?
12. This episode was called "The Last Recruit" – is that referring to Jack joining Team Mocke, or something else?
13. In Sideways World, Kate claims she never murdered anyone – is she telling the truth? I think I believe her!
Thoughts:
– SUN AND JIN REUNION WAS SO CUTE. And they kind of tricked us because we weren't expecting Jin on that beach!!! ADORABLE. I'm glad their Sideways baby is good too.
– Sawyer and Kate in the Sideways World are AWESOME. "Oh, I like you."
– Loved Hurley's Anakin comment. Perhaps it's true that Sayid and Claire will be able to come back from the Dark Side?
– Sawyer's hose trick in Nadia's backyard was awesome.
– I'm sorry, but Claire showing up at Ilana's office right at the very moment she was needed to hear a will is BEYOND coincidence. Now they're just getting silly.
– I can't believe Jack jumped off the boat!! Is he really going to be in Smokey's Army of Champions now or what?
I love how the preview last week once again had nothing to do with the episode it was previewing. I mean…wtf.

§ 78 Responses to "SPOILER ALERT: Mini-Recap & Discussion Post for "The Last Recruit""