WARNING: THE FOLLOWING POST CONTAINS SPOILERS FROM LAST NIGHT'S LOST. IF YOU HAVE NOT SEEN THIS EPISODE YET, DO NOT CONTINUE READING.
SPOILERS AHEAD. I DON'T WANT TO HEAR FROM ANYONE THAT I DIDN'T WARN YOU.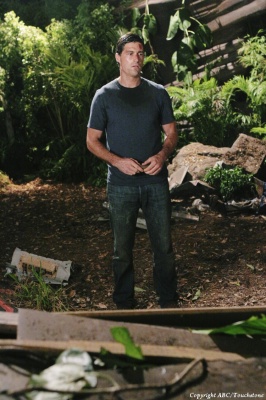 After the jump: Mini-recap, questions, theories, screencaps, and predictions!
On this week's Lost, Jacob asked Hurley to do him a solid and take Jack to a lighthouse so they could help guide someone towards the island. After a little manipulating and Star Wars references, Hurley convinced Jack to go, and the two of them hiked to the lighthouse (and past the old Rape Caves on the way). Once they got inside they found a crazy mirror that was sitting on a giant dial with – you guessed it – names and numbers written all over it! Only this isn't just ANY crazy mirror sitting on a giant dial – when you set the dial to a certain name, you see that person's home in the mirror's reflection! WHA!? So THIS is how Jacob was keeping dibs on all his candidates! It would have been awesome to experiment with it a while, the only problem with that scenario being that Jack had a tantrum and smashed it to pieces! Luckily for Hurley's sake that seems to have been Jacob's plan all along. This is all to make Jack feel like a unique and pretty snowflake!
Meanwhile back at Claire's camp, we found out she's not just kind of crazy, but she makes Danielle look like a perfectly well-adjusted person! Not only did she kill an Other with an axe after he assured her he didn't have Aaron, she also keeps a super creepy replica baby in an equally creepy crib! Jin found it almost as disturbing as we did, only he hatched a plan to get Claire to come with him to the temple. Hopefully she won't run into Kate on the way because this new crazy I'm-BFFs-with-Smokey Claire said she'd kill Kate if she's the one who took Aaron away from her!
It turns out that Sideways Jack not only passes up alcoholic drinks, but he also has a moody tween music prodigy kid! We didn't find out who the mother is (YET) but suffice it to say that while Sideways Jack seems to have been a crappy dad up until this point in his son's life, he seems like he's actually coming around! Shock! Awe!
1. Jack has a son! Who is the mother? Does his name David (also the name of Libby's dead husband and of Hurley's imaginary friend) have any meaning? When Jack's mother said David had been upset at "the funeral" whose funeral was she referring to?
2. Claire is WAY CRAZIER than we would have imagined! The fake baby in the crib is going to give me nightmares! Why does she not remember abandoning Aaron in the jungle? What happened to her? She is BFFs with Smokey now – what exactly does that mean?
3. Adam and Eve in the caves! We still don't know who they are, but it was nice to see them!
4. Jack's son was playing Chopin (Fantastie Impromptu, to be exact) – this was what Faraday played as a kid before Eloise told him he had to stop. Could Daniel be David's piano teacher in this Sideways world?
5. THE DIAL! SCREENCAPS! I'll upload more/better ones when I find them!
So Kate was on the dial, is she in the cave as well?
Look at all those names!
FARADAY!
LEWIS!
DAWSON!
LINUS!
FRIENDLY!
AGH!!!!
WHO IS WALLACE!? He/She is #108! Is Jacob really expecting them, or was all of that a ploy to get Hurley to bring Jack to the lighthouse?
6. What's the deal with Jack's appendix scar? Is he starting to remember/forget certain things? HOW!?
ALSO: I think this ties with the Season 3 finale with the most Jears shed in one episode. I mean holy god that was a lot. I'm still damp.

§ 86 Responses to "SPOILER ALERT: Mini-Recap & Discussion Post for "The Lighthouse""