WARNING: THE FOLLOWING POST CONTAINS SPOILERS FROM LAST NIGHT'S LOST. IF YOU HAVE NOT SEEN THIS EPISODE YET, DO NOT CONTINUE READING.
Normally I'd wait to post this until tomorrow, but I have a feeling you guys are going to want to discuss that episode ASAP. :D
SERIOUSLY, MAJOR MAJOR SPOILERS AHEAD. I DON'T WANT TO HEAR FROM ANYONE THAT I DIDN'T WARN YOU.
On this week's Lost, the episode opened with a POV shot of Smokey careening through the jungle and then morphing into Mocke. He asked Richard to join him, and told him that he'd explain all the super secret special things about the island that Jacob never bothered to mention, but Richard was really scared and didn't stick around. Mocke then went to visit a super drunk and half naked Sawyer, and this time he managed to convince Sawyer to join him on his trek for answers (despite the fact that Sawyer figured out immediately that Mocke was not Locke). On the way to their destination, a blond boy shows up out of nowhere and says "You can't kill him" to Mocke, and we think he's one of those crazy invisible people, but Sawyer can see him too! Then Richard shows up, TERRIFIED, and tries to get Sawyer to follow him back to the temple, but Sawyer says no. After climbing down a giant scary cliff, Mocke showed Sawyer a cave where Jacob had written many of the Losties' names on the walls (the names were even paired with the famous Numbers) – according to Mocke, this is how and why each of them had ended up on the island, and it was all Jacob's doing. Mocke explained that each of the people written on the wall were "candidates" to take over island protection duty from Jacob. But Mocke claimed the island doesn't need no stinking protection, and that the best thing for them to do would be hightail it out of there. Sawyer concurs. On the other side of the island, Sun, Ilana, and Ben buried the real Locke, and Ben confessed that he had murdered him.
In the Alternate Universe, Locke was getting ready to marry Helen when he got fired from his job – luckily Hurley (who owned the company Locke worked for) met him in the parking lot and told him he'd get him a job with the temp agency he owns. Locke also met Rose (who also works for Hurley) and Ben (who is a teacher at the school where Locke got a job substitute teaching). Locke was falling into his whole pit-of-despair-pity-party self, and was going to call Jack for that consult about fixing his spine, but Alterna-Locke decided that people CAN tell him what he can't do, as long as he can be happy doing the things he actually can do.
After the jump: Questions, theories, screencaps, and predictions!
SO much stuff coming out of this episode! In no particular order…
1. Who was the blond boy that warned Mocke that he couldn't kill them? Could it have been Jacob? Or Aaron? And if it was, how did Sawyer see him?
UPDATE: A lot of people were wondering why Sawyer could see the boy while Richard could not. This might give you a clue: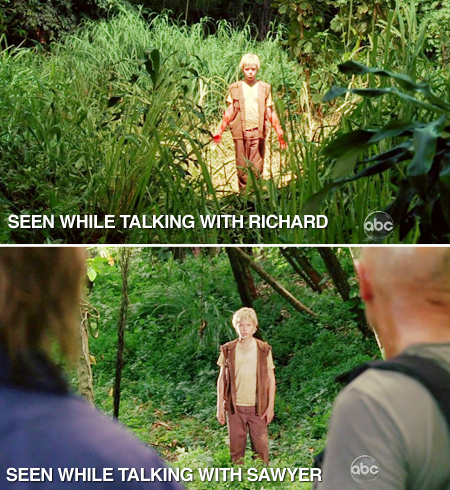 2. Richard once said "I am this way because of Jacob," this way meaning immortal/not aging/whatever. Now that Jacob's dead, could Richard be mortal like the rest of us, and is THAT why he's so freaked out by Mocke??
3. THE CAVE!!!!!!! WITH THE NAMES!!!!!!
For those that don't know, the names each corresponded with a number:
4 – LOCKE
8 – HURLEY
15 – SAWYER
16 – SAYID
23 – JACK
42 – KWON
How come Kate's not on this list? Could she be up there and we just didn't see? Is Ben on the cave wall? How about Richard? WHAT THE HELL? Claire's name was crossed out! Is Kwon Sun or Jin (or could it be their daughter, Ji-Yeon?)
Here are screencaps of the cave (thanks to DarkUFO) – CLICK ON THE IMAGE TO SEE THE HI-RES VERSION!!!
4. Is is possible that Jacob wasn't so much trying to protect the island as he was protecting the rest of the world from Smokey?? If not, why protect the island? What is he protecting it from? And what makes the "candidates" so special?
5. Mocke said he and Sawyer had 3 choices – do nothing, take over, or leave. While he crossed off Locke's name on the wall, he said Locke had done nothing. But Locke MOVED THE ISLAND, doesn't that count? If not, how come?
6. So Jacob was looking for his replacement, but apparently he has been alive FOREVER. So why look for a replacement when you don't die? Did he know this was going to happen?
7. Does the war going on between Jacob and Mocke have anything to do with the battle between Ben and Widmore? It's relatively easy to draw parallels between Jacob/Ben and Smokey/Widmore – Jacob and Ben seem to be working out of a "greater good" position, while Smokey and Widmore seem like it's more about THEM. Both pairs are violent and manipulative, but I can definitely see one pair mirroring the other.
8. Who exactly knows about the cave? Does Richard know? Do any of the Others know? They've always had lists from "Jacob," but now we know that a) whatever was in the cabin may not have been Jacob and b) Ben admitted that he never spoke to Jacob anyway! So "Jacob's lists" were actually Ben's lists. It seems like Ilana knows (remember when they were going to hurt Frank and she said to stop because he might be a candidate?)
9. Here's something kind of fun – in the Alterna-World, Hurley claimed to be the luckiest guy in the world. Is that why Locke's wheelchair lift wouldn't open onto Hurley's car?
10. Mocke talked about how he used to be a man – WHO is he and HOW did he get to be a giant pillar of angry black smoke? So crazy.
Added: The song playing on the record player in the beginning of the episode was "Search and Destroy" by Iggy and the Stooges (it's an awesomely badass song). Here are the lyrics in case anyone cares:
I'm a street walking cheetah
with a heart full of napalm
I'm a runaway son of the nuclear A-bomb
I am a world's forgotten boy
The one who searches and destroys
Honey gotta help me please
Somebody gotta save my soul
Baby detonates for me
Look out honey, 'cause I'm using technology!
Ain't got time to make no apology
Soul radiation in the dead of night
Love in the middle of a fire fight
Honey gotta strike me blind
Somebody gotta save my soul
Baby penetrates my mind
And I'm the world's forgotten boy
The one who's searchin', searchin' to destroy
And honey I'm the world's forgotten boy
The one who's searchin', searchin' to destroy
Forgotten boy, forgotten boy
Forgotten boy said
hey forgotten boy

§ 76 Responses to "SPOILER ALERT: Mini-Recap & Discussion Post for "The Substitute""