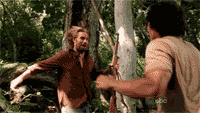 I've just been reading all the comments you guys have left me for the finale recap. I just wanted to say thank you. Thank you all. Seriously. People often asked me over the years why I bothered spending so much time writing these Lost recaps for a bunch of total strangers.
The comments you guys left me…that's exactly why I did it. Now I feel like one of Jacob's special snowflakes.
I wish I could thank you each individually, but this will have to suffice! THANK YOU ALL!!!!!!!!!!! Your kind comments mean more to me than you know :D
§ 15 Responses to Holy crap you guys"