WARNING: THE FOLLOWING POST CONTAINS SPOILERS FROM THE LATEST EPISODE OF LOST.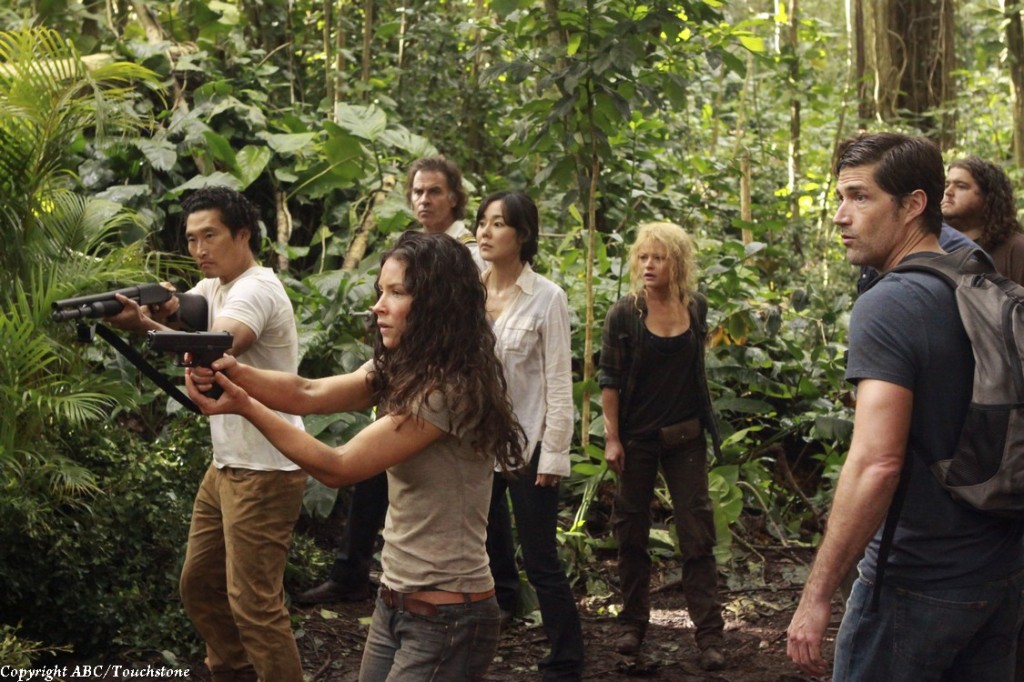 After the jump: Mini-recap, questions, theories, and predictions!
P.S. Just saw on DarkUFO that the series finale will be 2.5 hours now. Damn, son. That's like half a Lord of the Rings movie.
You guys I am almost too depressed to write this recap right now BUT I WILL MUDDLE THROUGH.
In the Sideways World, Jack told Locke that he was a candidate for a new surgery that might help Locke walk again, but Locke refused! Intrigued/obsessed by this, Jack went on a wild goose chase trying to figure out why this dude wouldn't want to help himself. Along the way he met Locke's dentist Bernard, who figured out he was also on the plane with Jack and Locke. Bernard told Jack that the accident that paralyzed Locke involved another man – one Anthony Cooper. Jack tracked him down, and instead of being the asshole we all knew and loved hated, Cooper was a drooling vegetable! Turns out a few years ago Locke took his daddy for a spin in a private plane, which inexplicably crashed, leaving Locke unable to walk and his father unable to function at all. So now Locke won't get the surgery to help himself because of – big surprise – daddy issues. Also, Jack and Claire met up again, and it turns out Christian left Claire a music box, but neither Jack nor Claire have any idea what it means.
On the island, all the Losties minus Jack and Claire were captured by Widmore's lackies and thrown into the polar bear cages for all of 5 minutes before Smokey swooped in, killing said lackies, which allowed Jack to set everyone free. When the now reunited group finally made it to the Ajira plane, Smokey quickly realized that the plane was rigged with explosives! So he took some of the C4 for safekeeping and told everyone they'd have to take the sub instead. On the way to the dock, Sawyer and Jack hatched a plan in which Jack wouldn't be joining everyone on the sub so he could stay on the island, but he would help to incapacitate Smokey so he also couldn't come for the ride. The only problem with that plan was that Smokey suspected it all along! Suddenly Kate was shot by one of Widmore's lackies, Jack brought her on the sub to save her, and thanks to Smokey's old switcheroo, he also carried a backpack full of explosives onto the sub, which everyone quickly realized. Sayid, finally showing some emotion, ran to the opposite end of the now submerged sub with the bomb, where he was blown to smithereens. The sub began to sink, Lapidus was knocked out by debris, Sun was pinned to the wall, and Jin said he'd never leave her again, so they all drowned!!! Jack saved Sawyer's life, and Hurley saved Kate, and then everyone sat on the beach crying forever, much like the entire audience. Smokey said he had to finish the job of killing everyone, and Claire followed behind.
Questions:
1. How did Locke have the dream about the button??
2. So now Jack is starting to see how Claire, Bernard, Locke, etc were all on the plane – what the hell does this mean?
3. Why was the plane rigged with bombs? Did Widmore really want to kill all the Losties, or were they just meant for Mocke? And if Mocke's plan all along was to kill everyone, why didn't he just let them on the plane?
4. What is Widmore doing with the list of candidates? Is he really on Team Jacob or what?
5. When Sayid said "Jack, it's going to be you" what did that mean? If it means Jack is the final candidate, how would Sayid have known that? Did Desmond tell him something? Did Desmond see the future when he was blasted a few episodes ago?
6. What significance does the music box Christian left for Claire have? Did you notice it was playing "Catch a Falling Star?" I'm still convinced Christian has a very important role in all this.
7. How come Kate's not a candidate?
8. Will Sideways Sawyer still kill Anthony Cooper, even though he's a vegetable?
9. Where are Richard, Miles, and Ben?
Thoughts:
;______________________________________________;
RIP Sayid, even if you've been a zombie psycho killer for the last season we will remember you for your torcha scrunchie and mad MacGuyver skillz.
RIP Lapidus, I hope there is bacon and infinite maragaritas in heaven.
RIP Sun, I wish you would have had a better part for the last 2 years on this show. I'm sorry your daughter is an orphan now. I'm sorry they waited forever to reunite you with Jin, only to kill you both off immediately.
RIP Jin, I don't even know what to say. That was like the saddest thing ever. Slo-mo drowning deaths are the worst. I JUST DON'T EVEN KNOW YOU GUYS. ;_;
BRB CRYING FOREVER. :(
That's it. Me and Smokey are done professionally. Claire too.
We had Jears but I'm going to allow them considering we were all crying too. Seeing Hurley cry like that made me want to die, pretty much.
Next week is going to be INSANELY EPIC. Hold onto your butts, people. It's really almost over!

§ 109 Responses to "SPOILER ALERT: Mini-Recap & Discussion Post for "The Candidate""