WARNING: THE FOLLOWING POST CONTAINS SPOILERS FROM THE LATEST EPISODE OF LOST.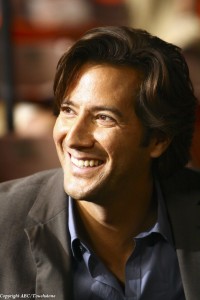 After the jump: Mini-recap, questions, theories, and predictions!
This week on Lost, Widmore's henchman woke Desmond up from a 3-day coma just so they could stick him in a room with a giant radioactive super collider to see if it didn't kill him! Apparently Widmore wants Desmond's help in saving the island because the rules don't quite apply to him. Luckily for us, he not only survived the fiasco, but his consciousness was sent to the Sideways World, where Desmond was Widmore's right hand man! Widmore totally loved Desmond, and also loved his son Daniel and his wife Eloise!
Widmore sent Desmond on an errand to babysit a certain junkie rock star we all knew and loved, who was bring sprung from the slammer. Apparently when Charlie almost choked to death on the Oceanic flight, he had a vision in which he was in love with a blond girl, and I think we all know who he was talking about! So in order to recapture this feeling, he drove Desmond's car right off a dock – with both of them still inside. When Desmond saw Charlie's hand pressed against the car window, he had his OWN flash – "Not Penny's boat!" After rescuing Charlie from drowning, Desmond was given an MRI at the hospital, and almost as soon as it started the Penny floodgates opened up and he had that same rush of love that Charlie had described! Then Charlie runs away, telling Desmond to bugger off and go find this Penny woman!
Then Desmond went to visit Mrs. Eloise Widmore to let her know he'd lost the rock star, and that went surprisingly well – that is until Eloise overheard Desmond asking around about someone named Penny! Then she freaked out, told him to knock it off, and told him he wasn't ready, whatever that means! Then to make matters even more confusing, Daniel (who is a musician and not a scientist) also has a talk with Desmond in which he explains that he also had those love visions with a chocolate-loving redhead. Not only that, but he recently wrote a bunch of crazy equations down that he doesn't even understand! Daniel somehow figured out that he set a nuclear bomb off in an alternate universe! Dude is smart, no matter where he is, apparently.
So anyway not only does Daniel confirm that Desmond's visions are real, but he also tells him where he can find his half-sister Penny! So Desmond finds her and introduces himself, but when they shake hands he is sucked back into the other world, where he then agrees to help Widmore save the island because all of the sudden he understands what has to happen. Then Sayid swoops in and karate chops some of Widmore's lackeys, lets Zoe run away, and tells Desmond to follow him, which Des does without any hesitation.
Back in the Sideways World, after apparently fainting at Penny's very touch, Des asks her on a date and she says yes! And then Desmond asks his limo driver (Minkowski!) to get him the Oceanic flight's manifest so he can tell all the other passengers about this strange phenomenon.
Side note: I almost don't even want to try and tear this episode apart because I think it's so complicated and crazy that it wouldn't make any sense, and we're going to know the answers soon enough…but still, I thought this episode was AMAZING though. OCH DESMOND BROTHAH, AH LUFF YOO.
Questions:
1. This is so complicated I don't think any of us can really answer it now, but what exactly is the connection between the two worlds? How is it even possible that anyone can get visions of their other life?? If there is somehow a way that you can get all the lovey feelings out of the island world and stick them into the Sideways World without all the bad feelings from the island world, then maybe it's like the two worlds will converge and it will be a super happy ending?? Will it be like Harry Potter, love will save us all? I don't know, guys. I am so confused LOL but I wouldn't want it any other way.
2. Did anyone see the painting of the scales on Widmore's office wall?
3. How come Eloise always knows what's going on?? How come she told Desmond he wasn't "ready?" HOW DOES SHE ALWAYS SEEM TO KNOW WHEN NO ONE ELSE DOES?
4. And what makes Desmond special? Why is it he can survive these electromagnetic phenomenon? (Although Locke, Charlie, and Eko all survived the last one!) Did the MRI machine with all its magnetism knock something loose in his brain?
5. Why did Sayid let Zoe run away? WHY!? I thought we'd be rid of her for a second haha.
6. And WHAT was that radiation generator thing Widmore stuck Desmond in?? That was crazy.
7. Where are Penny and Baby Charlie? I love that Daddy Widmore just kidnaps her husband.
8. In the Sideways World Desmond is going to tell all the Losties about this other life – but how will they react? Will they seek out their loved ones, or will they start thinking they're in some kind of Matrix that they need to escape?
9. What causes each Lostie to have the visions? How come it seems like only half of them are having the visions? If the visions are of love, then does it have to be romantic love, or can it be other things as well? I also wonder if people like Rose and Bernard will still have the visions if they're already with their loved one in the Sideways World?
10. Desmond holding his hand out to Penny mirrored Jack 's hand to Sun and Smokey's hand to Richard. I wonder if there's anything to that. Did Desmond look in any mirrors? Thanks, John – Desmond was looking at is reflection in the Oceanic board at the airport!
11. What kind of sacrifice does Widmore expect Desmond to make?
12. The guy at the party said Penny's last name was Milton, if she was on that guest list. Who is her mother? Could that be a reference to John Milton, author of (fittingly) Paradise Lost?
Thoughts:
So many cameos tonight!
– Charlie is a giant douchebag in the Sideways World, but he awoke the Penny monster in Desmond's head so it's all good.
– Daniel's line about how he had no idea what any of the stuff in his notebook meant cracked me up. And how great was "I'm Daniel Widmore. We need to talk." asd;fkl;sdk
– Eloise is ALWAYS FREAKY. Also, her hair was enormous lol.
– Minkowski!!! How can a driver get a flight manifesto, anyway?? Last time I checked limo drivers didn't have much pull.
– Des helping Claire in the airport was adorable despite her heinous wig.
– Desmond hitting Widmore felt good; Desmond hugging Widmore felt WEIRD.
– I'd like to thank the Lost costume person for keeping Desmond in a blue shirt where he belongs. And also giving Daniel a tie.
– Charlie called Jack a sodding idiot. I was pleased. :D
– The song Daniel was playing on the piano at the party was the same song Jack's son played at his recital (it's Chopin's Fantastie Impromptu). Edit: And this was also the song we saw Daniel playing as a kid in his flashback last year.
– The stadium Desmond met Penny was the same place he met Jack in the other timeline – that's where he first said "See you in another life, brothah!" which makes it even cooler now that he's literally in another life.
To quote John Locke, I think I'm going to have to watch that again!
As usual, I'll add more as I think of it.

§ 97 Responses to "SPOILER ALERT: Mini-Recap & Discussion Post for "Happily Ever After""